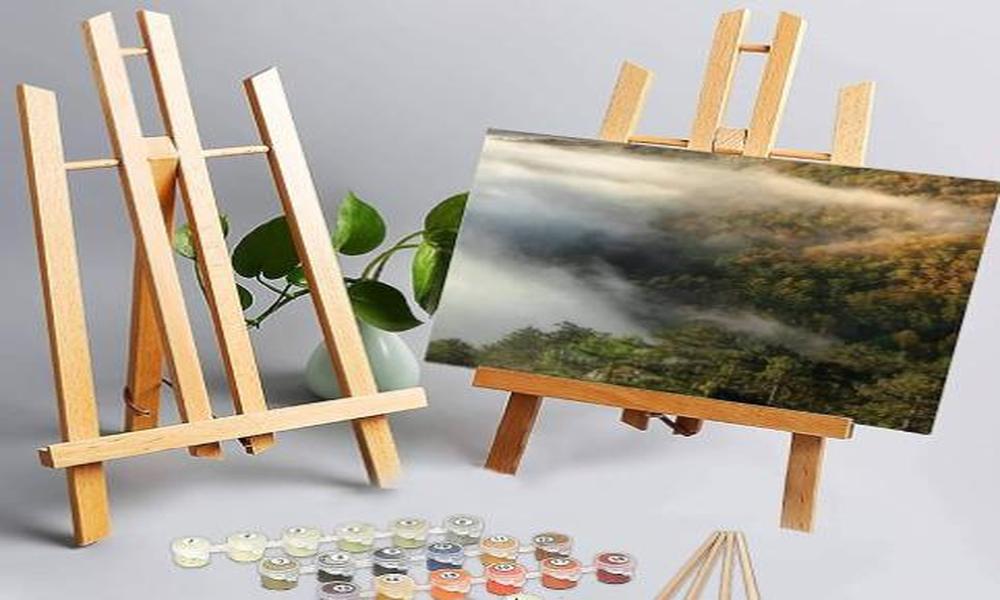 Read Time:
3 Minute, 24 Second
Whether you're a seasoned artist or a beginner, painting by number is an enjoyable and relaxing way to create beautiful artwork. To make your painting session a success, there are some crucial tools you need. Here are the seven essential paint-by-number accessories that will elevate your painting experience.
High-Quality Paintbrush Set
Having a set of high-quality brushes is paramount in creating your masterpiece. A good paintbrush set should include different sizes and types of brushes – from large brushes for broad strokes to tiny ones for intricate details.
The right paintbrushes can make all the difference between a painting that looks professional and one that looks amateurish. Don't skimp on this; invest in a high-quality set. 
Palette
It is a flat surface where you can mix your paints. It allows you to blend colours and control the amount of paint on your brush. Some palettes come with thumb holes for easy holding, while others are designed to sit on a table. Choose one that suits your comfort and convenience.
Palettes come in various materials like wood, glass, and plastic. Each has its pros and cons. For instance, wood palettes are traditional and comfortable to hold but may absorb oil from paints. Glass palettes are easy to clean and don't absorb oil but can break if dropped. Plastic ones are cheap and lightweight but may stain easily.
Paint Organizer
Keeping your paints organized can save you a lot of time and hassle. A paint organizer allows you to easily access your paints, preventing them from drying out and getting mixed up. This tool is especially useful if you're working on a large project with many colours.
Consider a paint organizer with compartments for each color, so you don't have to hunt for the right shade in the middle of your painting session. Look for one that's sturdy and easy to clean in case of spills or drips.
Magnifying Glass
If you're working on a paint-by-numbers kit with lots of small, intricate sections, a magnifying glass can be a lifesaver. It can help you see the tiny areas clearly, ensuring that you paint precisely and don't miss any spots.
A magnifying glass with a light can be particularly helpful. The light illuminates your work area, making it easier to see even in low-light conditions. And the magnification helps you paint those tiny details with precision.
Easel
An easel isn't just for professional artists. It provides a stable and adjustable platform for your canvas, making it easier to paint, especially for extended periods. An easel also helps prevent neck and back strain by enabling you to paint at a comfortable height and angle.
Easels come in various types and sizes. There are tabletop easels for small canvases and standing easels for larger pieces. Some are adjustable, allowing you to tilt and rotate the canvas as needed. Choose one that fits your space and meets your needs.
Lighting
Good lighting is essential for any art project. A desk lamp with adjustable brightness can provide the right amount of light, helping you see the colours more accurately and reducing eye strain.
Look for a lamp with a daylight bulb. These bulbs mimic natural sunlight, giving you the most accurate colour rendition. Adjustable lamps let you direct the light exactly where you need it, eliminating shadows and glare.
 Comfortable Chair
Painting can take hours, so having a comfortable chair is a must. Look for a chair that supports your back and allows you to adjust the height so you can paint comfortably for extended periods.
Your chair should support good posture to prevent back pain and fatigue. It should be adjustable, so you can set it at a height that lets you reach your canvas and palette comfortably. And it should have a cushioned seat for comfort during long painting sessions.
So, these are the seven essential paint-by-number accessories that will ensure a stellar painting session. Remember, investing in the right tools can significantly enhance your painting experience, helping you create beautiful artwork with ease and enjoyment. Happy painting!