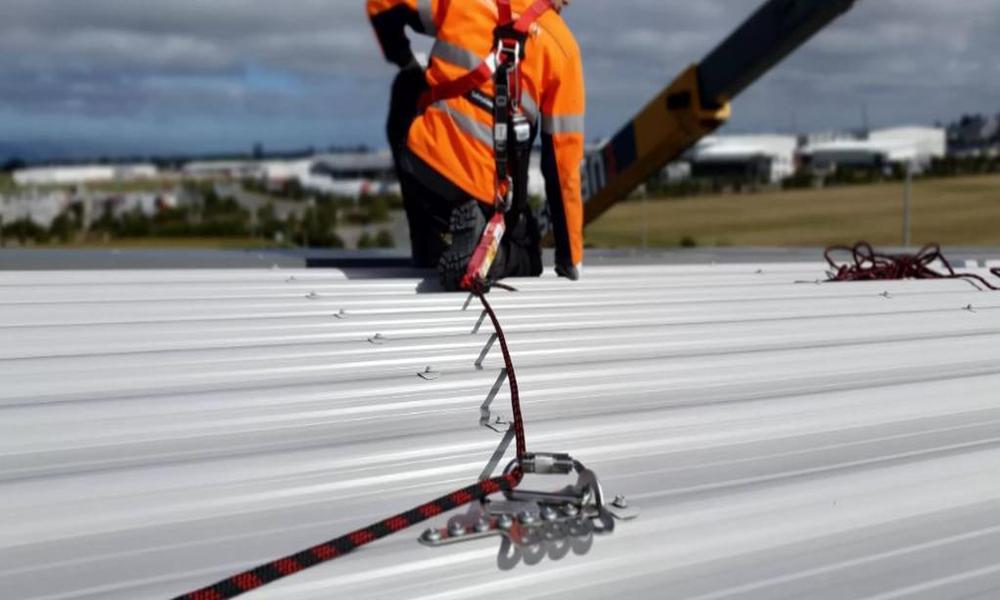 Read Time:
3 Minute, 44 Second
When it comes to working at heights, ensuring the safety of workers is paramount. The construction industry, in particular, often involves tasks performed on roofs, which poses significant risks if proper safety measures are not in place. One essential tool that plays a crucial role in enhancing worker safety on metal roofs is the metal roof safety anchor. In this article, we will delve into the importance of these anchors and how they contribute to achieving peace of mind for both workers and employers.
Understanding the Risk: Working on Metal Roofs
Working on metal roofs involves unique challenges and risks. The slippery surface of the metal can make it hazardous for workers to maintain their footing, especially in adverse weather conditions. The steep incline of many roofs further compounds the dangers, increasing the risk of falls. Given these challenges, it's essential to have effective safety systems in place to protect workers from accidents and injuries.
The Role of Metal Roof Safety Anchors
Roof safety anchors, also known as roof anchors or fall protection anchors, are devices designed to secure workers who are working at heights. These anchors are attached to the roof structure, providing a secure point to which workers can connect their personal protective equipment (PPE) like harnesses and lanyards. In the event of a slip or fall, the safety anchor system prevents workers from plummeting to the ground, reducing the severity of potential injuries or even saving lives.
Key Benefits of Metal Roof Safety Anchors
Preventing Falls:

The primary purpose of roof safety anchors is to prevent falls. By providing a stable and reliable connection point, these anchors greatly reduce the risk of workers slipping off the roof. This not only protects the workers themselves but also ensures that no accidents occur that could lead to project delays, legal complications, or damage to the company's reputation.

Versatility:

Roof safety anchors can be adapted to various roof types, including sloped metal roofs, which are known for their challenging working conditions. This versatility means that workers can rely on consistent safety measures regardless of the specific roofing project they are engaged in.

Compliance:

Occupational Safety and Health Administration (OSHA) regulations and guidelines require employers to provide fall protection for workers engaged in construction activities at heights. Using roof safety anchors demonstrates a commitment to compliance with these regulations, reducing the risk of penalties and fines.

Ease of Use:

These safety anchors are designed with ease of use in mind. Once properly installed, workers can quickly and efficiently connect their harnesses to the anchor point, allowing them to focus on their tasks without unnecessary complications.

Peace of Mind:

For both workers and employers, the presence of roof safety anchors offers peace of mind. Workers can concentrate on their duties without constant worry about their safety, and employers can rest assured that they are taking every possible step to protect their workforce.
Choosing the Right Metal Roof Safety Anchors
Not all roof safety anchors are created equal. When selecting these anchors for a construction project, it's essential to consider several factors to ensure optimal safety:
Load Capacity:

Different anchors have varying load capacities. It's crucial to choose anchors that can support the weight of the workers and the equipment they are using.

Materials and Durability:

The anchors should be made from high-quality materials that can withstand harsh weather conditions and the test of time. Stainless steel anchors, for instance, are known for their corrosion resistance.

Installation Method:

The installation method of the safety anchors should be compatible with the roof structure. Some anchors require penetration of the roofing material, while others can be attached without causing damage.

Certification and Compliance:

Ensure that the chosen safety anchors are certified and compliant with industry regulations. This guarantees that the anchors meet the necessary safety standards.
The Bottomline:
Working on metal roofs comes with inherent risks, but the implementation of effective safety measures can significantly mitigate these dangers. Metal roof safety anchors play a pivotal role in enhancing worker safety, preventing falls, and ensuring compliance with regulations. By choosing the right anchors and adhering to proper installation guidelines, employers can provide their workers with the peace of mind they deserve while carrying out their tasks at heights. Ultimately, investing in the safety of workers not only protects lives but also safeguards a company's reputation and bottom line. So, when it comes to working at heights, remember that the right roof safety anchors are the foundation of a secure and productive work environment.