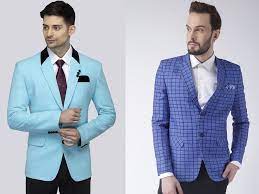 Read Time:
4 Minute, 14 Second
Blazers may be the perfect top layer for men's ensembles, but selecting just the right fabric can mean the difference between a great look and one that falls flat. To help you make an informed decision when buying a blazer, this article will explore ten different fabrics used to make them and which body types each works best with. Whether you want something classic or trendy, you'll soon be able to find the perfect blazer material for your style. Read on to learn more!
Linen
Linen blazer for men is perfect for summertime events or hot weather climates. The fabric is lightweight and breathable, making it ideal for warm-weather wear. Linen blazers often have a more casual look and feel than other types of blazers, so they are great for daytime or weekend events. You can pair them with semi-formal or formal shoes.
Wool
There is a lot of debate over which type of fabric is best for a blazer. Many men swear by wool, as it is an incredibly durable and strong material. Wool blazers also tend to be very comfortable, as the fabric is breathable and has a bit of give to it. However, wool can be difficult to care for, as it wrinkles easily and needs to be dry cleaned regularly.
Cotton
Cotton is a natural fiber that is derived from the cotton plant. Cotton blazers are usually less expensive than other types of blazers, and they're also more comfortable to wear in warm weather. However, cotton blazers can wrinkle more easily than other types of blazers.
Cashmere
There are many different types of blazers for men based on the fabric that they are made out of. Cashmere is one type of fabric that blazers can be made out of. The thing that makes cashmere so special is the fact that it is made from the softest undercoat hair of certain types of goats. This material is often used in high-end clothing because it creates a luxurious feel. When wearing a cashmere blazer, you can expect to feel very comfortable and stylish at the same time.
Polyester
Polyester is a synthetic fabric that is often used in blends with other fabrics, such as wool or cotton. It is wrinkle-resistant and easy to care for, making it a popular choice for blazers. Polyester blazers can be found in a variety of colors and styles, making them a versatile option for men's wardrobes.
Nylon
Nylon is a synthetic fabric that is typically used in sportswear and outerwear. It is a durable fabric that is resistant to wrinkles, shrinking, and fading. Nylon is also a lightweight fabric that is easy to care for.
Leather
There are many different types of fabrics that blazers can be made from, but one of the most classic and timeless options is leather. A leather blazer instantly gives any outfit a touch of sophistication and can be dressed up or down depending on the occasion.
One thing to keep in mind when choosing a leather blazer is the type of leather it is made from. The two most common options are calfskin and lambskin, with the latter being slightly more expensive but also softer and more comfortable to wear. Whichever type you choose, make sure to pick one that fits well and is tailored to your specific body shape for the best look.
Velvet
Velvet blazers are a luxurious and elegant option for men. They are perfect for special occasions, such as weddings or black tie events. Velvet blazers can be made from different fabrics, such as silk, cotton, or synthetic fibers. Velvet blazers typically have a satin lining and may be decorated with buttons or other embellishments.
Tweed
Tweed is a rough, woolen fabric that originates from Scotland. It's often associated with country gentlemen and has a reputation for being old-fashioned.
Despite its stuffy reputation, tweed can be a stylish and modern fabric when used correctly. It's perfect for creating a smart-casual look that is both stylish and comfortable.
Tweed blazers are normally made from 100% wool, which makes them warm and durable. They're ideal for wear in the colder months, but can also be worn in the summer if you choose a lighter weight fabric.
If you're looking for a classic tweed blazer, then go for something in a neutral color like grey or brown. These colors will go with anything and can be dressed up or down as needed. If you want something more unique, then go for a patterned tweed in a brighter color. Just make sure that the rest of your outfit doesn't clash!
Khaki
There are many different types of blazers for men, but one of the most popular is the khaki blazer. Khaki is a versatile fabric that can be dressed up or down, making it a great choice for any man. A khaki blazer can be paired with jeans for a casual look, or dress pants for a more formal occasion. No matter how you wear it, a khaki blazer is sure to make you look sharp.